Traditional martial arts, Tai Chi, and self-defense made relevant to the demands and stress of today's world and each individual's needs and goals.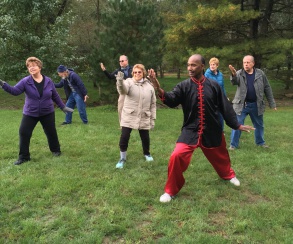 Tai Chi for Health and Wellness
Gentle exercise in a calm environment – the beginning of wellness that comes with a settled mind free from the stress of the day.  Tai Chi – the hidden art of self-defense whose health benefits have been revealed by modern medicine – can help you increase your flexibility, stability, and concentration, and can help to reduce stress. For all ages, all fitness and skill levels.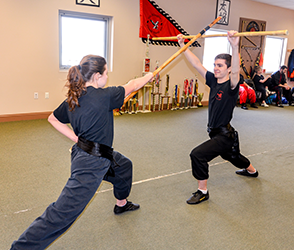 Kung Fu for Adults & Teens
Strength to know your own body and mind. Confidence to walk away from bad situations. An ancient art that will teach you more about yourself than you ever thought you could know. Begin at the beginning and enjoy the journey. More than just a fitness regimen, more than learning fighting skills, Kung Fu brings harmony of mind and body that strengthens the entire human being. For all ages, all fitness and skill levels.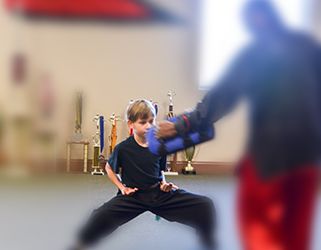 Learning martial arts at an early age helps children develop confidence in all areas of their lives, as they find that they are capable of more than they imagined, and that hard work pays off.  Sifu Slaughter's school instills young students with a strong sense of self-worth, respect for themselves and for others. Through creative self- defense drills and interactive practice sessions, young students develop coordination and control, with a healthy dose of exercise on the side!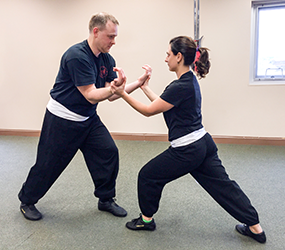 Self Defense for All Ages
The average person in a threatening situation faced by a bad person who intends harm – freezes. Don't freeze. Training in self-defense helps the mind and body to respond automatically to defend against an attack, without delay in those first critical moments. Knowing how to respond – to protect yourself and your loved ones – could make all the difference. For all ages, all fitness and skill levels.
Student Spotlight: Sam Everson
Sam Everson has been a Kung Fu student with Sifu Slaughter for 12 years. Now a black belt in Kung Fu, Sam is also an accomplished fencer. He is captain of his high school's fencing team, competes for the Pittsburgh Fencers Club, and was recently among 32 individuals selected out of more than 1,000 nominees for the Positive Athlete of Western Pennsylvania award, a program spearheaded by former Steeler Hines Ward. Sam credits his Kung Fu training for his fencing success. "I had a bit of an advantage coming from martial arts. The mental aspect plays such a role in both sports. Concentration, breaths, thought replacement – they're all part of the discipline of fencing."  Sam is also an active Eagle Scout, plays saxophone in his high school band and is president of his school's music club (which he founded). Add in his 4.24 GPA and it is clear he is truly a modern Renaissance man and future leader!  
We began taking Tai Chi lessons with Sifu Slaughter 10 years ago, and Kung Fu lessons over 8 years ago, and are thankful for the many ways in which Sifu Slaughter's patient instruction and wisdom has improved our lives. When we attend class, the daily stress of work melts away and we find that we carry that calmness with us into our everyday lives. We have never felt healthier or in better shape than we do now; not just our bodies, but our minds get a workout with every lesson! Working together as a husband/wife team adds even more benefits – the level of trust it builds, the coordination and the joyful experience of discovering new learning together is truly special when your spouse is also your ͞sparring partner͟. We highly recommend Sifu Slaughter's Chinese Martial Arts for everyone!
The School Has Reopened With The Following Rules & Guidelines:
The school has reopened in compliance with state and CDC guidelines. For the time being, we will continue the high-energy classes online to reduce the contact of respiratory droplets (sweat, coughing, sneezing etc.). Classes held at the studio will be restricted to low impact level activities with a limited number of students:  reviewing open hand and weapons forms, tai chi, and addressing any questions that students may have.
In accordance with CDC guidelines, students and visitors will be required to practice the following safety measures when attending in-studio classes:
Students and visitors attending in-studio classes will be required to wear a mask covering the nose and mouth at all times, including during practice.  Masks are required for the safety of everyone, the student and his or her fellow classmate, as well as the business and their clientele next door.
Students must schedule attendance at each in-studio class by sending Sifu Slaughter an email or text message. This will help to limit the number of students per class in order to maintain safe distancing during class sessions.
Students should come to the studio dressed to take class.  The bathrooms will be sanitized after each use.
Visitors accompanying students will be limited to parents and guardians of children under the age of 18 (one parent per student please).
Any student or visitor feeling sick are asked to stay home and refrain from attending in-studio classes until they are feeling better as the CDC recommends.
We appreciate your cooperation with the above measures to keep us all safe and healthy.  In addition, we will be using the fifteen-minute intervals between classes to sanitize the school routinely and will structure classes to maintain appropriate distances.